Main content starts here, tab to start navigating
Slide 1 of 4
Slide 2 of 4
Slide 3 of 4
Slide 4 of 4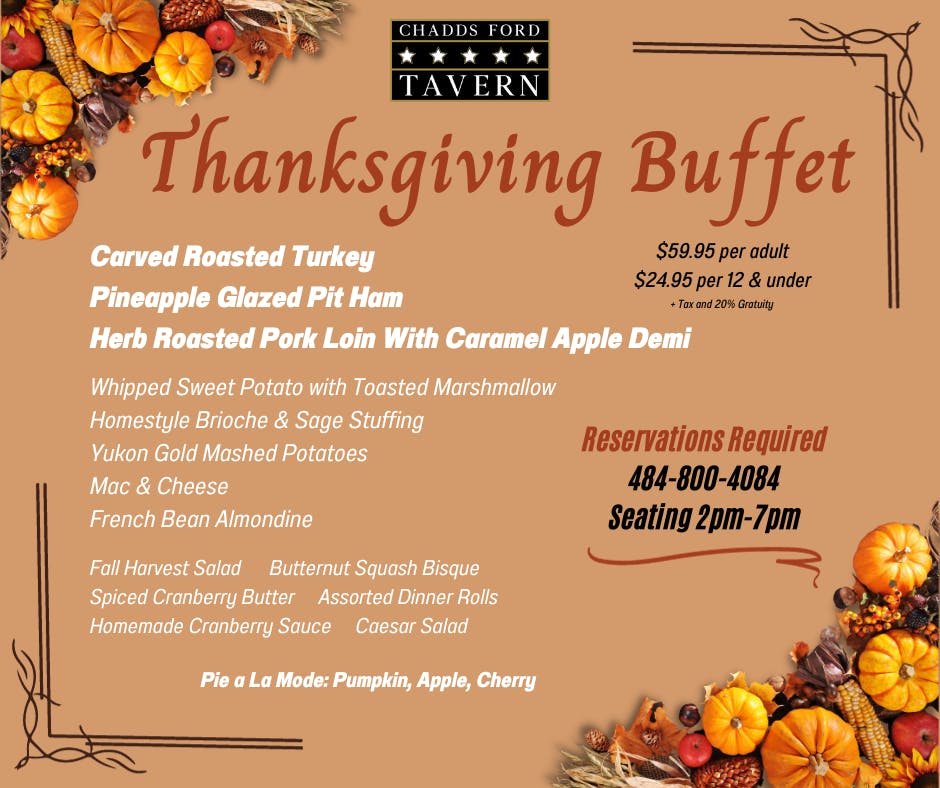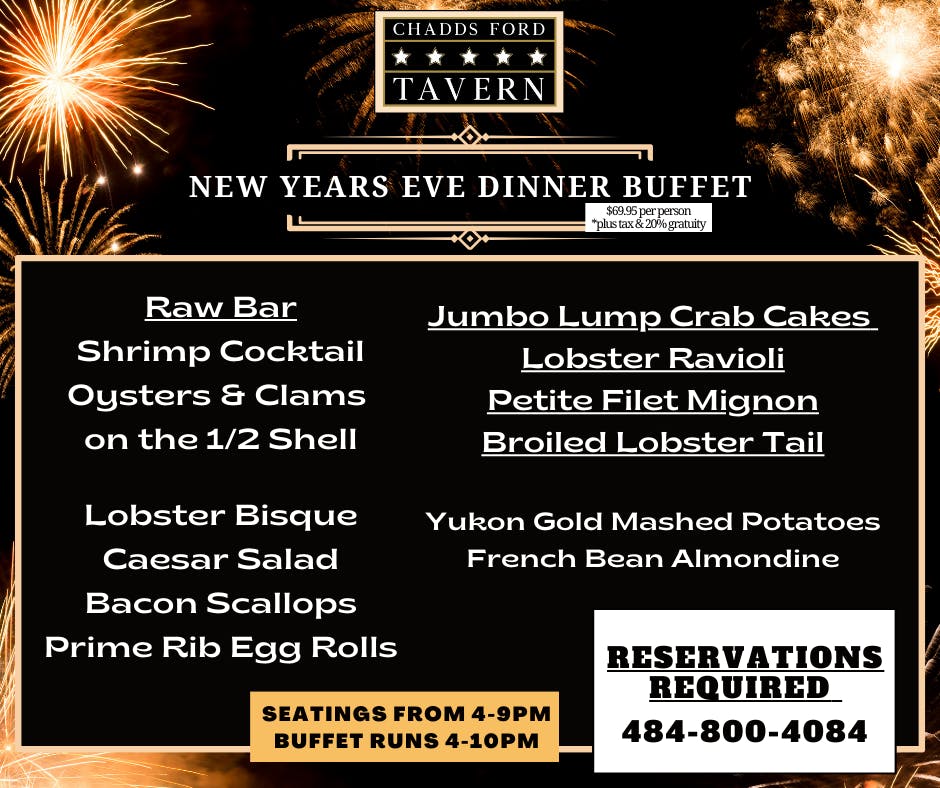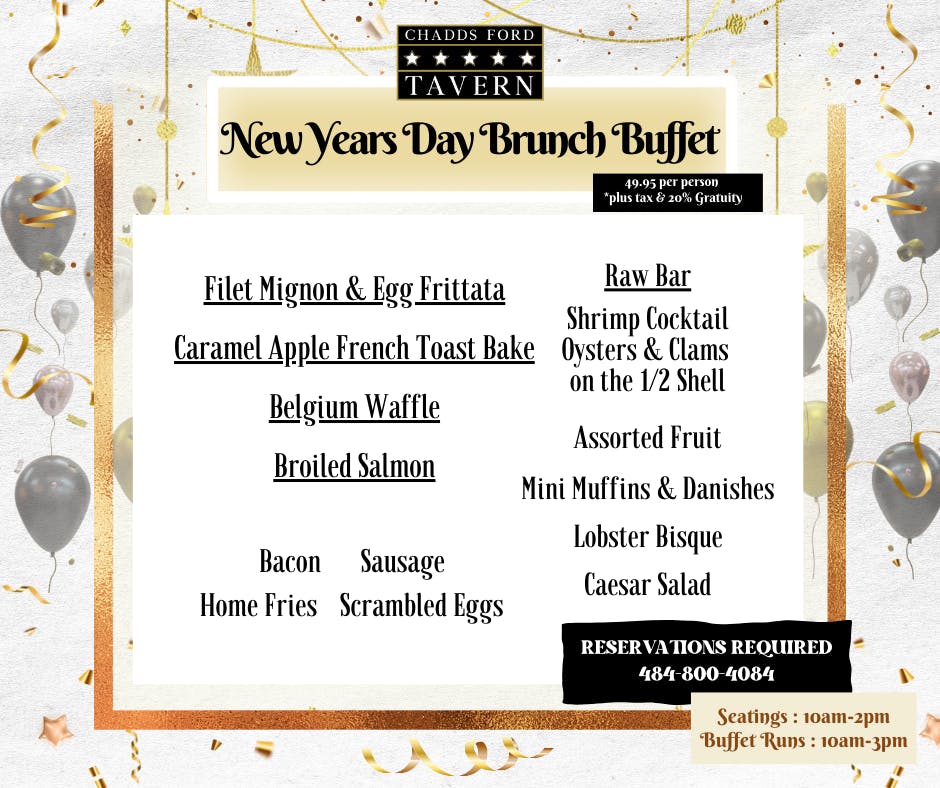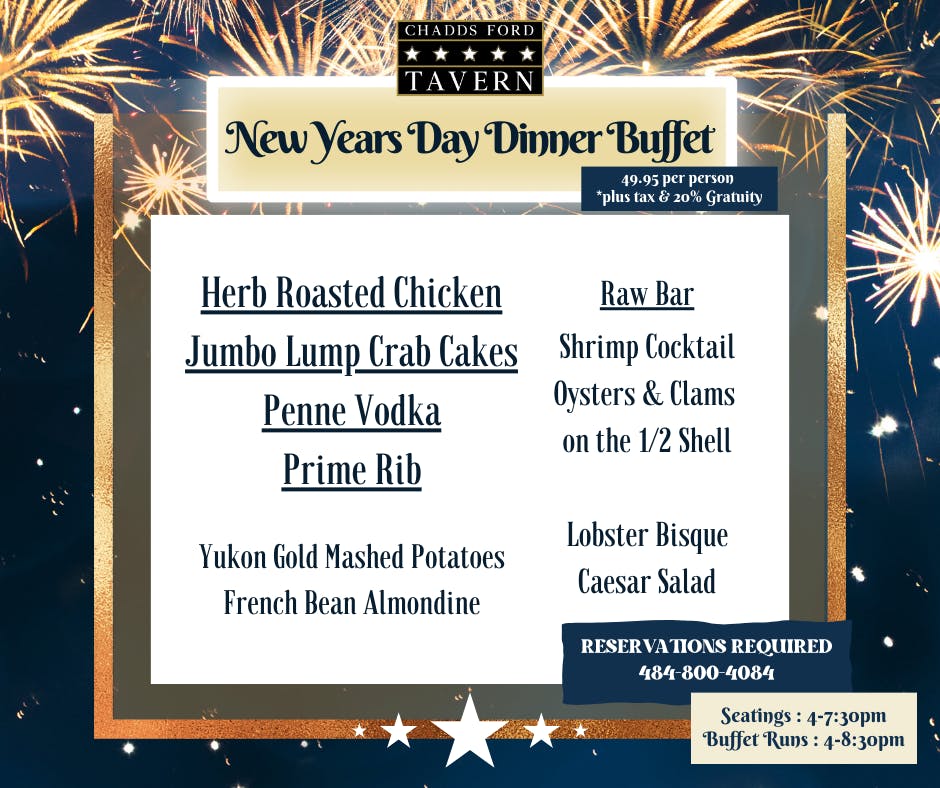 Appetizers
Prime Rib Egg Rolls

American Cheese, Caramelized Onion, Horseradish Chive Sauce

$14

Tavern Wings

You Choice of Buffalo, Chipotle BBQ, or Sweet Chili

$14

gluten free

Pomme Frites

Hand Cut Fries, Black Truffle Sea Salt, Parmesan, Tavern Cheese Fondue

$7

gluten free

Baked Clams

1 Dozen Top Neck Clams, Olive Oil, Garlic, Herbs

$15

gluten free

Jumbo Lump Crab Mac N Cheese

Wild Mushroom, Fontina, Truffle Crumb Topping

$15

Burrata & Prosciutto

Fresh Mozzarella, Aged Balsamic, Basil Parmesan Emulsion, Baby Arugula, Tomato Confit

$12

gluten free

Jumbo Bacon Wrapped Shrimp

Applewood Bacon Wrapped Shrimp, Horseradish Chive Sauce

$13

gluten free

Local Mushroom Bisque

Jumbo Lump Crab, Wild Mushroom

$14

French Onion

Sweet Vidalia Onion, Garlic Herb Crouton, Gruyere

$10

Tavern Lobster Chowder

Maine Lobster, Sweet Corn, Applewood Bacon, Yukon Gold Potatoes, Lobster Sherry Cream

$15
Shared Plates
Pulled Pork Flatbread

BBQ Pulled Pork, Fontina, Roasted Garlic Aioli

$15

Giant Bavarian Pretzel

Garlic Herb Butter, Habanero Honey Mustard, Tavern Cheese Fondue

$12

Asian Ahi Tuna

Seaweed Salad, Crispy Wonton, Ginger Soy Glaze, Wasabi Crema

$17

Caprese Flatbread

Heirloom Tomato Confit, Fresh Mozzarella, Basil Parmesan Emulsion

$14

Tavern Wing Sampler

House Buffalo, Chipotle BBQ, and Sweet Chili

$16

gluten free

Appetizer Sampler

Prime Rib Egg Roll, Bacon Shrimp, Sweet Chili Wings

$16

Antipasto Board

Shaved Prosciutto, Pepperoni, Sharp Provolone, Burrata, Roasted Peppers, Olives, Pesto Focaccia

$18

gluten free

Chef's Cheese Board

Parmigiano Reggiano, Smoked Cheddar, Triple Cream Brie, Maytag Bleu, Fig Jam, Candied Walnut, Pomegranate

$22

gluten free

Short Rib Fries

Black Truffle Sea Salt, Tavern Cheese Fondue

$14
Consuming raw or under cooked loads can increase your risk of foodborne illness
Raw Bar
Jumbo Shrimp Cocktail

$18

$32

Clams on the 1/2 Shell

$8

$14

Oysters on the 1/2 Shell

$15

$28

1LB Whole Maine Lobster

Served Steamed or Chilled

$32

Jumbo Lump Crab Cocktail

$15

Tavern Tower

Four Shrimp, Four Clams, Four Oysters, 4oz Colossal Crab, One Whole Lobster

$75
Consuming raw or under cooked loads can increase your risk of foodborne illness
Salads
Tavern Wedge

Heirloom Tomato, Applewood Smoked Bacon, Garlic Herb Croutons, Crispy Onion, Creamy Gorgonzola

$10

Classic Caesar

Hearts of Romaine, Garlic Herb Croutons, Shaved Parmesan, Creamy Roasted Garlic Dressing

$10

Fall Harvest

Baby Greens, Granny Smith Apple, Dried Cranberries, Candied Walnuts, Gorgonzola crumbles, Champagne Vinaigrette

$10

gluten free

Roasted Beet Salad

Honey Whipped Goat Cheese, Macadamia, Baby Greens, Blood Orange

$10

gluten free

House Salad

Spring Mix, Cucumbers, Tomatoes, Onions, Garlic Herb Croutons, Red Wine Vinaigrette, Parmesan Cheese

$10

Additions

Jumbo Lump Crab Cake $12

Blackened Shrimp $12

Pan Seared Scallops $18

Faroe Island Salmon $12

Herb Grilled Chicken $7

Grilled Prime Strip Steak $22
Consuming raw or under cooked loads can increase your risk of foodborne illness
All Handhelds are Served with French Fries
Handhelds
Southern Fried Chicken

Bread and Butter Pickles, Arugula, Tomato, Sriracha Aioli, Brioche Bun

$14

Jumbo Lump Crab Cake

Arugula, Tomato, Lemon Basil Tartar, Brioche Bun

$16

Italiano

Chicken Cutlet or Braised Pork, Garlic Spinach, Roasted Peppers, Provolone, Seeded Loaf

$15

Tavern Burger

Smoked Cheddar, Applewood Bacon, Crispy Onion, Baby Arugula, Tomato, Brioche Bun

$15

Filet Mignon Cheesesteak

Prime Filet Mignon, Tavern Fondue, Fried Onions, Seeded Loaf

$20

Herb Grilled Chicken Club

Applewood Bacon, Provolone, Baby Arugula, Tomato, Roasted Garlic Aioli, Brioche Bun

$14

Smokehouse BBQ

Braised Brisket or Pork, Smoked Cheddar, Tavern BBQ Sauce, Brioche Bun

$14

Tavern Roast Beef

Shaved Ribeye, Provolone, Crispy Onion, Horseradish Chive Sauce, Seeded Loaf

$19
Consuming raw or under cooked loads can increase your risk of foodborne illness
Tavern Classics
Parmesan Crusted Chicken

Mozzarella, Ricotta Gnocchi, Marinara

$21

Eggplant Parmesan

Ricotta, Spinach, Roasted Peppers, Mozzarella, Ricotta Gnocchi, Marinara

$19

Jumbo Lump Crab Cakes

Sweet Corn Risotto, Garlic Spinach, Lemon Basil Tartar

$28

Steak Frites

Served over Truffle Parmesan Fries, with our Cabernet Demi-Glace.

$34

gluten free

Seafood Fra Diavolo

Jumbo Shrimp, Dayboat Scallops, Jumbo Lump Crab, Angel Hair, Spicy Marinara

$34

Bacon Filet Mignon

8 oz Center Cut Filet Mignon, Cheddar Chive Mashed Potatoes, Roasted Asparagus, Cabernet Demi-Glace, Crispy Onion

$38

gluten free

Southern Fried Chicken

Free Range Airline Breast, Goat Cheese Whipped Yukon Gold Potatoes, Smokey Spinach, Honey Chipotle

$22

Faroe Island Salmon & Shrimp

Sweet Corn Risotto, Roasted Asparagus, Lemon Beurre Blanc

$28

gluten free

Tavern Ultimate Surf & Turf

Bacon Wrapped Filet Mignon, 1/2 Baked Stuffed Lobster Imperial, Yukon Gold Whipped Potatoes, Roasted Asparagus.

$48
Consuming raw or under cooked loads can increase your risk of foodborne illness
Prime Steaks & Chops
All Serves with Yukon Gold Mashed Potatoes, Butter Braised Harriet Covert and Cabernet Demi Glace
16oz Prime Bone In Kansas City Strip Steak

Served with Yukon Gold Mashed Potatoes, Butter Braised Haricot Verts and Cabernet Demi Glace.

$46

22 Oz. Prime Dry Aged Cowboy Ribeye

Served with Yukon Gold Mashed Potatoes and French Beans

$58

gluten free

16oz Prime Kurobuta Cowboy Pork Chop

Served with Yukon Gold Mashed Potatoes, Butter Braised Haricot Verts and Cabernet Demi Glace.

$34

gluten free

16oz Double Cut Lamb Chops

Served with Yukon Gold Mashed Potatoes, Butter Braised Haricot Verts and Cabernet Demi Glace.

$42

gluten free

12oz Prime Strip Steak

Served with Yukon Gold Mashed Potatoes, Butter Braised Haricot Verts and Cabernet Demi Glace.

$36

gluten free

Add The Surf

Whole 1lb. Steamed Main Lobster OR 1/2 Baked and Stuffed Maine Lobster Imperial

$28
Wild Fish & Seafood
All Served with Parmesan Risotto, Butter Braised Harriet Covert, Beurre Blanc and Charred Lemon
Local Wild Dayboat Scallops

Served with Parmesan Risotto, Butter Braised Haricot Verts, Beurre Blanc and Charred Lemon.

$38

gluten free

Local Wild Striped Bass

Served with Parmesan Risotto, Butter Braised Haricot Verts, Beurre Blanc and Charred Lemon.

$30

gluten free

Hawaiian Strawberry Red Snapper

Served with Parmesan Risotto, Butter Braised Haricot Verts, Beurre Blanc and Charred Lemon.

$29

gluten free

Local Wild Ahi Tuna Steak

Served with Parmesan Risotto, Butter Braised Haricot Verts, Beurre Blanc and Charred Lemon.

$29

gluten free

Tavern Lobster

Stuffed Whole Maine Lobster, Jumbo Lump Crab Imperial, Drawn Butter, Served with Parmesan Risotto, Butter Braised Haricot Verts, Beurre Blanc and Charred Lemon.

$48
Consuming raw or under cooked loads can increase your risk of foodborne illness
Shared Sides $8
Garlic Spinach

Roasted Asparagus

Butter Braised Haricot Verts

Cheddar Chive Whipped Potatoes

Goat Cheese Whipped Potatoes

Whipped Yukon Gold Potato
Local Wild Mushrooms

Mac and Cheese

Parmesan Risotto

Gnocchi Marinara

Sweet Corn Risotto

Angel Hair Marinara
Tahitian Vanilla Crème Brulee

Fresh berries & whipped cream

$10

Warm Chocolate Stout Cake

Bourbon caramel & vanilla ice cream

$10

Caramel Apple Doughnuts

Served with Vanilla Ice Cream and Homemade Caramel Sauce

$10

Honey Ricotta Cheesecake

Wild Berry Topping

$10

Coconut Panna Cotta

$10

Cinnamon Apple Bread Pudding

Bourbon Caramel, Vanilla Ice Cream, Whipped Cream

$10
Tavern Trio $20
Choose Any 3 House Made Desserts
Offered 4-6pm Daily
Half Price Beer • Wine • Whiskey • Cocktails
Buck a Shuck Oysters & Clams $1
$6
Tavern Wedge

Heirloom tomato, applewood bacon, garlic herb crouton, crispy onion, creamy gorgonzola

Classic Caesar

Hearts of romaine, garlic herb crouton, creamy roasted garlic dressing, shaved parmesan

French Onion Soup

Sweet vidalia onion, garlic herb crouton, gruyère

Pomme Frites

Black truffle sea salt, parmesan & herbs, tavern cheese fondue

Giant Bavarian Pretzel

Garlic herb butter, habanero honey mustard, tavern cheese fondue

The House

Baby Greens, Heirloom Tomato, English Cucumber, Shaved Red Onion, Croutons, Red Wine Vinaigrette
$12
Prime Rib Egg Rolls

Wild mushroom, smoked cheddar, horseradish chive sauce

Applewood Bacon Shrimp

Baby arugula, honey chipotle glaze

Tavern Wings

House buffalo, chipotle bbq or sweet chili

Caprese Flatbread

Heirloom tomato confit, fresh mozzarella, basil parmesan emulsion

Short Rib Fries

Hand Cut Fries, Truffle Sea Salt, Braised Short Rib, Cabernet Demi Glace, Tavern Cheese Fondue

Consuming raw or undercooked meats, poultry, shellfish, peanuts or eggs may increase your risk of food borne illness.
Chicken Tenders & Fries

$8.95

Homemade Mac N Cheese

$8.95

Angel Hair Marinara

$8.95
Chicken Caesar Salad

$8.95

Kid's Cheese Burger & Fries

$8.95

Flatbread Pizza

$8.95
Cocktails $14
Pumpkin Spice Martini

Smirnoff Vanilla Vodka, Bailey's Pumpkin Spice Liqueur, Pumpkin Pie Syrup, Cinnamon Sugar Rim

$14

Cranberry Ginger Mule

Housemade Cranberry Ginger Vodka, Mint Simple Syrup, Ginger Beer

$14

Tavern Dirty Martini

Belvedere Smogory Forest Vodka, Bleu Cheese Olives

Tavern Manhattan

Bulleit Rye, Sweet Vermouth, Cherry

$14

Campfire S'Mores Martini

House Infused Marshmallow Vodka, Godiva Dark Chocolate Liqueur, Drambuie, Cream, Chocolate Graham Cracker Rim, Toasted Marshmallow

Apple Pie Martini

Crown Royal Vanilla Whisky, Crown Royal Regal Apple Whisky, Bailey's Apple Pie Liqueur, Cream, Caramel Drizzle

$14

Tavern Sangria

Our Secret Blend of Liquors, Served Red or White

Pineapple Martini

Ketel One Vodka, Smirnoff Vanilla Vodka, Fresh Pineapple Juice

Tavern Old Fashioned

Tavern's Knob Creek, Sugar Cube, Bitters, Muddled Orange and Cherry

$14

Winter Spritzer

Captain Morgan White Rum, Muddled Blackberry, Fresh Rosemary, Simple Syrup, Club Soda

Peppermint Twist

Smirnoff Peppermint Twist Vodka, Bailey's Irish Cream Liqueur, Creme De Menthe, Godiva White Chocolate Liquor, Candy Cane Rim

$14
Dessert Cocktails
Death by Chocolate

Smirnoff Vanilla Vodka, Godiva Chocolate Liqueur, Shaved Chocolate Rim

Tavern Irish Coffee

Baileys Original Irish Cream, Jameson, Hot Coffee, Whipped Cream

Royal Espresso Martini

Crown Royal Vanilla, Baileys Original Irish Cream, Coffee Liqueur, Espresso
Chadds Ford Tavern offers Dom Perignon by the glass!
Sparkling
Ruffino Prosecco NV, ITA

gls $12

btl $36

Chandon California Brut or Rose, Napa Valley, CA

gls $14

btl $45

Veuve Clicquot Yellow Label Brut NV, Reims, Fra

$27

btl $100

Veuve Clicquot Vintage Rosé 2008, Reims, Fra

btl $160

Moët & Chandon Grand Vintage Rosé 2009, Epernay, Fra

btl $150

Ruinart Rosé Nv, Reims, Fra

btl $150

glass $35

Dom Pérignon Vintage 2009, Epernay, Fra

gls $45

btl $180

Ask about our rotating and limited bottle offerings.
White Wines
Dark Horse, Pinot Grigio, Modesto, CA

Gls $9

Btl $27

Gaierhof, Pinot Grigio, Trentino Alto Adige, Italy

Gls $10

Btl $40

Dark Horse Chardonnay 2016, Modesto, CA

gls $9

btl $27

A to Z Wineworks, Chardonnay, Dundee, OR

gls $13

btl $50

Newton Skyside Chardonnay 2016, Sonoma County, CA

gls $16

btl $60

Monkey Bay, Sauvignon Blanc, NZ

Gls $10

Btl $36

Marlborough Ridge, Sauvignon Blanc, Marlborough, NZ

Gls $12

Btl $48

Smoke Tree Rose

Gls $10

Btl $40

Chateau Ste Michelle Reisling
Red Wines
Dark Horse Pinot Noir, Modesto, CA

gls $9

btl $27

Cloudy Bay Pinot Noir 2015, Marlborough, NZ

btl $59

Domaine Paul Mas, Pinot Noir, Languedoc, France

gls $12

btl $48

The Federalist Zinfandel 2013, Lodi, CA

gls $16

btl $48

19 Crimes Shiraz 2017, Aus

gls $12

btl $36

Parceleros, Malbec, Mendoza, Argentina

gls $12

btl $48

Cheval Des Andes 2014, Mendoza, Arg

btl $150

Bodega Numanthia, Numanthia Tinta De Toro 2014, Toro, Spa

btl $126

Skyside Merlot Blend, North Coast California

gls $12

btl $36

Conundrum Red Blend NV, CA

gls $16

btl $60

Dark Horse Cabernet Sauvignon 2015, Modesto, CA

gls $9

btl $27

Chateau Bellevue, Bordeaux, France

Gls $12

Btl $48

Josh Cellars Cabernet Sauvignon 2016, Sanoma, CA

gls $13

btl $51

Newton Vineyard Unfiltered Cabernet Sauvignon 2016, Napa Valley, CA

btl $99

Caymus Cabernet Sauvignon 2016, Napa Valley, CA

btl $175
Single Malt Scotch Whiskey
Ardbeg 10

$12

Balvenie Doublewood 12

$14

Dalwhinnie 15

$13

Glenfiddich 12

$12

Glenlivet 12

$12

Glenmorangie 10

$10

Glenmorangie Quinta Ruban 12

$13

Glenmorangie 18

$28

Lagavulin 16

$20

Macallan Double Cask 12

$15

Macallan 18

$62

Oban 14

$17

Oban 18

$26

Talisker 10

$14
Irish Whisk
Gingers

$6

Jameson Black Barrel

$12
Canadian Whisky
Crown Royal

Crown Royal Regal Apple

Crown Royal Northern Harvest Rye

Three Fingers High Rye
American Whiskey
1792

$9

Basil Hayden's

$11

Buffalo Trace

$10

Bulleit Bourbon

$7

Bulleit 10 Year

$12

Eagle Rare 10

$10

Elijah Craig Small Batch

$7

Four Roses Small Batch

$8

Knob Creek

$9

Larceny

$7

Makers Mark

$8

Woodford Reserve

$10
American Rye Whisky
Bulleit Rye

$7

Dads Hat Rye

$10

Jack Daniels Single Barrel Rye

$13

Knob Creek Rye

$9

Redemption Rye

$7

Templeton Rye

$10

Whistle Pig 10 Year Rye

$23
Other Premium Spirits
Captain Morgan Private Stock

$6

Don Julio Blanco

$12

Don Julio Reposado

$14

Don Julio Añejo

$16

Don Julio 1942

$28

Grand Marnier

$10

Hennessy V.S.O.P Privilège

$15

Patron Silver

$13

Tanqueray No. Ten

$8