Main content starts here, tab to start navigating
Chadds Ford Tavern is open for take out!!!! We will be open between 4p.m. and 8p.m Thursday-Sunday!!
We are offering Take Out BEER, WINE and COCKTAILS TOO!!!!!!
Call Today: 484-800-4084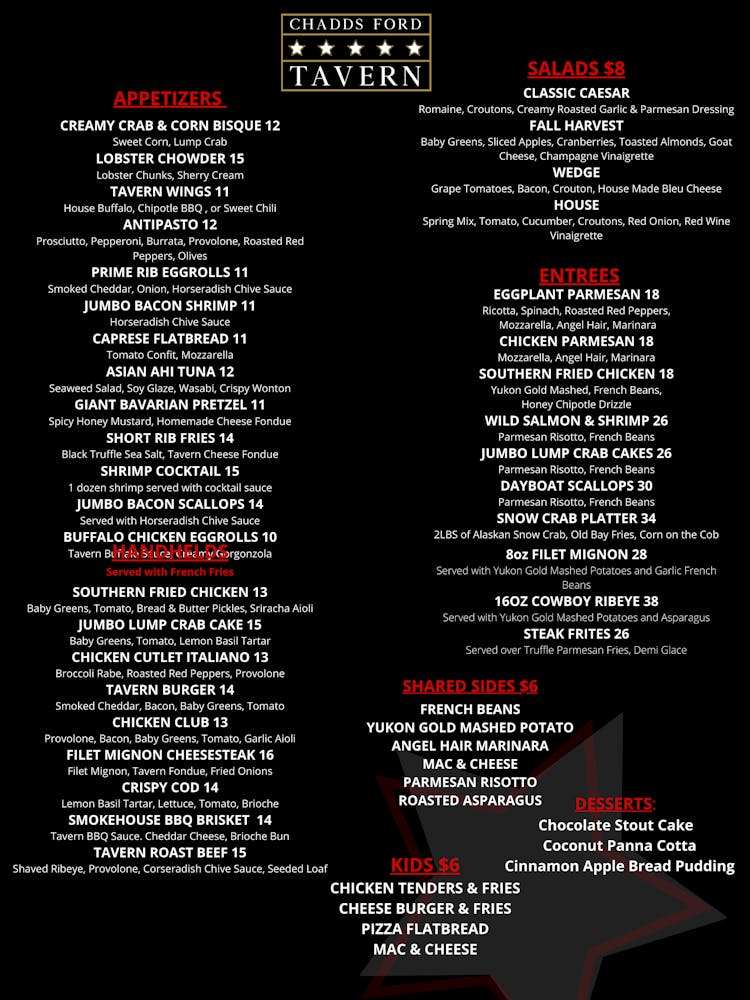 Cocktails $14
Scotchy Scotch Sour

Glenmorangie Original, Cointreau, Lemon, Demerara Syrup

Tavern Manhattan

Bulliet Rye, Sweet Vermouth, Bitters, Amareno Cherry

La Poire

Absolut Pears, Pear Nectar, Ginger Liquor, Cinnamon Rim, Served Sparkling or Straight

Autumn Sangria

Our Secret Blend of Liquors, Red Wine, Fresh Orange Juice, Soda

Tavern Dirty Martini

Belvedere Unfiltered Vodka, Blue Cheese Olives

Pineapple Martini

Ketel One Vodka, Smirnoff Vanilla Vodka, Fresh Pineapple Juice

Champagne Side Car

Hennessey VSOP, Grand Marnier, Lemon Juice, Chandon Brut

Johnnie and the Giant Peach

Johnnie Walker Red Label, Ketel One Botanical Peach & Orange Blossom, St. Germain, Simple Syrup, Lime Juice

Apples to Apples

Captain Morgan Apple Smash, Crown Royal Regal Apple, Pineapple Juice, Cinnamon Sugar Rim, Served Sparking or Straight

Tavern Bloody Mary

Ketel One Vodka, Fresh Tomato Juice, Jumbo Shrimp, Old Bay Rim
Dessert Cocktails
Death by Chocolate

Smirnoff Vanilla Vodka, Godiva Chocolate Liqueur, Shaved Chocolate Rim

Tavern Irish Coffee

Baileys Original Irish Cream, Jameson, Hot Coffee, Whipped Cream

Royal Espresso Martini

Crown Royal Vanilla, Baileys Original Irish Cream, Coffee Liqueur, Espresso

Affogato

Ice Cream, Espresso, Baileys Original Irish Cream
Chadds Ford Tavern offers Dom Perignon by the glass!
Sparkling
Ruffino Prosecco NV, ITA

gls $12

btl $36

Chandon California Brut or Rose, Napa Valley, CA

gls $14

btl $45

Veuve Clicquot Yellow Label Brut NV, Reims, Fra

$27

btl $100

Veuve Clicquot Vintage Rosé 2008, Reims, Fra

btl $160

Moët & Chandon Grand Vintage Rosé 2009, Epernay, Fra

btl $150

Ruinart Rosé Nv, Reims, Fra

btl $150

glass $35

Dom Pérignon Vintage 2009, Epernay, Fra

gls $45

btl $180

Ask about our rotating and limited bottle offerings.
White Wines
Dark Horse Chardonnay 2016, Modesto, CA

gls $9

btl $27

Deloache Chardonnay NV, Santa Rosa, CA

gls $12

btl $36

Newton Skyside Chardonnay 2016, Sonoma County, CA

gls $16

btl $60

Dark Horse The Original Pinot Grigio Tuscany, Ita

gls $9

btl $27

Monkey Bay Sauvignon Blanc NV, NZ

gls $12

btl $36

Cape Mentelle Sauvignon Blanc Semillon 2017, Margaret River, Aus

btl $40

Chateau St. Michelle Riesling, Colombia Valley, WA

gls $12

btl $36
Red Wines
Dark Horse Cabernet Sauvignon 2015, Modesto, CA

gls $9

btl $27

Josh Cellars Cabernet Sauvignon 2016, Sanoma, CA

gls $13

btl $51

Newton Vineyard Unfiltered Cabernet Sauvignon 2016, Napa Valley, CA

btl $99

Caymus Cabernet Sauvignon 2016, Napa Valley, CA

btl $175

Dark Horse Pinot Noir

gls $9

btl $27

Deloach Pinot Noir Nv, Santa Rosa, CA

gls $12

btl $36

Cloudy Bay Pinot Noir 2015, Marlborough, NZ

btl $59

Skyside Merlot Blend, North Coast California

gls $12

btl $36

Santa Julia Organic Malbec 2017, Mendoza, Arg

gls $12

btl $36

19 Crimes Shiraz 2017, Aus

gls $12

btl $36

The Federalist Zinfandel 2013, Lodi, CA

gls $16

btl $48

Conundrum Red Blend NV, CA

gls $16

btl $60

Bodega Numanthia, Numanthia Tinta De Toro 2014, Toro, Spa

btl $126

Cheval Des Andes 2014, Mendoza, Arg

btl $150
Single Malt Scotch Whiskey
Ardbeg 10

$12

Balvenie Doublewood 12

$14

Dalwhinnie 15

$13

Glenfiddich 12

$12

Glenlivet 12

$12

Glenmorangie 10

$10

Glenmorangie Quinta Ruban 12

$13

Glenmorangie 18

$28

Lagavulin 16

$20

Macallan Double Cask 12

$15

Macallan 18

$62

Oban 14

$17

Oban 18

$26

Talisker 10

$14
Irish Whisk
Gingers

$6

Jameson Black Barrel

$12
Canadian Whisky
Crown Royal

Crown Royal Regal Apple

Crown Royal Northern Harvest Rye

Three Fingers High Rye
American Whiskey
1792

$9

Basil Hayden's

$11

Buffalo Trace

$10

Bulleit Bourbon

$7

Bulleit 10 Year

$12

Eagle Rare 10

$10

Elijah Craig Small Batch

$7

Four Roses Small Batch

$8

Knob Creek

$9

Larceny

$7

Makers Mark

$8

Woodford Reserve

$10
American Rye Whisky
Bulleit Rye

$7

Dads Hat Rye

$10

Jack Daniels Single Barrel Rye

$13

Knob Creek Rye

$9

Redemption Rye

$7

Templeton Rye

$10

Whistle Pig 10 Year Rye

$23
Other Premium Spirits
Captain Morgan Private Stock

$6

Don Julio Blanco

$12

Don Julio Reposado

$14

Don Julio Añejo

$16

Don Julio 1942

$28

Grand Marnier

$10

Hennessy V.S.O.P Privilège

$15

Patron Silver

$13

Tanqueray No. Ten

$8